Our primary goal at Fresh Meadows Animal Clinic is to be there for you and your pet. Our entire staff and health care team works together to provide the best possible veterinary care in the region. We serve dogs and cats from Queens, Brooklyn, New York City and Long Island.
Dr. Jeremy Cohen
Medical Director
Read More
Dr. Cohen is one of the most highly trained general veterinarians in the Queens, New York area. He graduated from Cornell University's School of Veterinary Medicine in 2002, which was followed by an extensive 13-month internship at the prestigious Angell Memorial Animal Hospital in Boston, Massachusetts, where he received advanced training from the finest veterinarians in the country.
Originally from Syosset, New York, Dr. Cohen returned to Long Island in 2004, where he spent ten years working in veterinary practices in Huntington, Syosset, Glen Cove, Westbury, Nesconset and Stony Brook before starting his own practice at Fresh Meadows Animal Clinic.
His special interests in veterinary medicine are emergency care and radiology. He is also a proud member of the National, State, and Local Veterinary Medical Associations. Dr. Cohen partakes in 60+ hours of continuing education, training, lectures and conferences annually.
In addition, Dr. Cohen volunteers his time at local cat lectures and middle school expo events. Since becoming owner of Fresh Meadows, Dr. Cohen has enjoyed meeting with local members of the community, caring for their pets and nurturing the precious human-animal bond.
Dr. Janice Fenichel
Veterinary Doctor
Read More
Dr. Janice Fenichel received her B.S. in chemistry as well as her D.V.M. degree from Iowa State University. She has been in small animal practice for the last 29 years. She has worked in Buffalo NY, Port Washington NY, and is currently employed in Manhattan, performing emergency medicine, surgery and dentistry. She lives in NYC with her two sons and two cats.

Dr. Marc Leleonnec
Veterinary Doctor
Read More
Veterinarian Dr. Marc Leleonnec provides mobile ultrasound consultations at the clinic. Assisting with advanced internal medicine cases, Dr. Leleonnec is also one of the most skilled imaging and medicine consultants in the region.

Noel Katehis
Groomer
Read More
Formerly the owner of "Meeka's Grooming," Noel Katehis has brought her grooming expertise in-house to FMAC! Reliable, patient, and highly-skilled, Noel also cultivates unique and affectionate relationships with our pets. This explains why Noel is the highest-rated and most beloved groomers in all of Queens.

Torey R
Receptionist, Customer Assistance
Read More
Kristen S
Receptionist
Read More
Tiffany A
Veterinary Technician
Read More
Amanda M
Veterinary Technician
Read More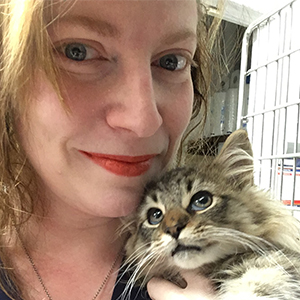 Alison F
Veterinary Technician
Read More
Alison has been with Fresh Meadows Animal Clinic since February of 2017. She moved to Queens with her family and loves it due to how it always changes and how diverse it is. She is also an undergrad at SUNY Buffalo.
She began working in the veterinary industry because she love animals and enjoys how every day at the clinic is different. Her favorite aspect of veterinary medicine is interacting with clients and helping them to care better for their pets. Even when it's the most difficult day of someone's life and they are saying goodbye to a pet, she still feels honored to be there with them.
Outside of work, Alison's family consists of her three kids, one dog (Tofu), and cat (Raj). She is also very passionate about mental health and wellness, as well as writing.

Julie S
Veterinary Technician
Read More